Keep You Garage Clean and Safe with Electrical Hazards, Chemicals Lighting and Garage Door Safety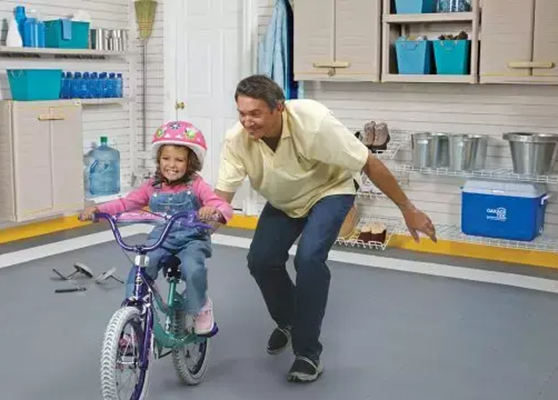 Posted:
Feb 1st, 2023
8:25 am
Following these guidelines can make your garage a clean, safe and useful room in your home –
Stop fires before they start
The third leading cause of accidental death in the home is by fire. At least 80 percent of all burn fatalities occur in the residence. You can protect your family by following these easy steps:
Store minimal gasoline in the garage. Keep tightly sealed and out of the reach of children. Never store indoors, because of highly flammable vapors.
Do not store gasoline in the garage where there is an appliance with a pilot light.
Be careful not to overload electrical outlets, extension cords and power strips.
Check all wire and cords for damage and cover all unused electrical outlets.
Keep volatile chemicals, such as fertilizers and turpentine, in their original containers in a locked storage area in the garage.
Dispose of flammable materials, including old newspapers, excess clothing and dirty rags.
Mount a fire extinguisher in the garage area. Train yourself and family members how to use it. Conduct drill twice annually with all family members.
Install a working smoke alarm in the garage. Test upon installation and every three months.
Special care for combustibles
Follow safety recommendations for usage, such as wearing gloves and masks.
Do not mix products, to avoid risk of explosion.
Store pool chemicals according to manufacturer's instructions. Read and follow usage instructions.
Store chemicals in locked cabinets out of sight and out of reach of children.
Store in original containers. Check for proper sealing.
Keep products dry and isolated from other chemicals and products
Plug into safety
Read this checklist to learn how to make sure your garage is properly wired and safe from all electrical hazards:
Make sure all electrical cords are in good condition. Replace any that are frayed, knotted or coiled.
Do not attach extension cords to baseboards or walls with nails or staples.
Check electrical ratings on appliance cords and extension cords. Make sure all appliances are carrying proper loads.
Outdoors, use only extension cords marked specially for outdoor use.
Use child resistant outlet covers on wall outlets if children live in or visit your home.
Check for safety certificates from recognized testing organizations such as Underwriters Laboratories (UL) on all electrical appliances, cords and fixtures.
Follow manufacture's recommended for power usage. Use extension cords only temporarily. Remove extension cords when finished.
Keep all electrical-powered appliances and equipment dry and away from exposure to water.
Install locks on all electrical supply boxes.
Remove build-ups of trash, spider webs and dust which can interfere with electrical current.
Shine the light on safety
Garages are notoriously poorly lit and therefore underutilized and unsafe. However, by following the following tips there are simple ways to create a clean, safe garage:
Make sure garage and stairwells are well lit.
Use maximum safe wattage in light fixtures. (maximum wattage is typically posted inside the light fixtures.)
Avoid use of naked bulbs. Shield bulbs used near work areas to reduce the risk of breakage and fire.
Open the door to safety
The garage door is another entry into your home. In addition, thousands of injuries per year are caused by faulty installation of door openers. Follow these guidelines to ensure your door is installed properly and to keep your home secure.
Use a recognized vendor and distributor of garage doors for sale and servicing.
Keep your garage door locked at all times.
Routinely lock every door connecting the garage to the house.
Be alert to security issues when handling your garage door opener; it serves as a key to your home. Avoid leaving it unattended. Separate it from car keys if leaving keys with
valet, etc.
Test your garage door opener for safety by placing two-inch thick block of wood underneath garage door. This obstruction should trigger directional reverse. If door continues to
press down against obstruction, replace or repair immediately. (This offers protection against injuries to children.)
Mount wall control panel out of reach of children. Keep remote controls away from children.
Arrange to have the garage door serviced annually.
Inform all family members about potential garage door dangers.