GARAGE STORAGE SOLUTIONS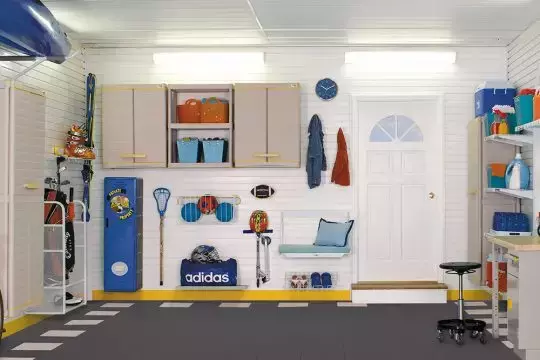 Garage Wall Organization
Get Everything Off the Floor
GarageTek's patented TekPanel is the core of the entire garage organization system. This waterproof, bugproof, slotted wall paneling is the only garage paneling that is strength certified and Class A fire rated. In addition, TekPanel's reflective surface makes the walls easy to keep clean and gives the garage a bright, clean appearance. As with any finished room in your home, GarageTek adds trim and molding around every window and doorway.
Now, from ceiling to floor, every inch of the walls become flexible storage space where all fixtures can be locked into the paneling – but also can be easily moved at any time. Unlike other systems where products are screwed directly into the studs of your garage without any future flexibility, our patented TekPanel will give you lifelong flexibility.
GarageTek has installed more paneling in garages throughout the world than any other garage organization company. TekPanel has been tested and proven time and time again. It's time to reclaim your garage and transform the marred garage walls into unlimited storage possibilities.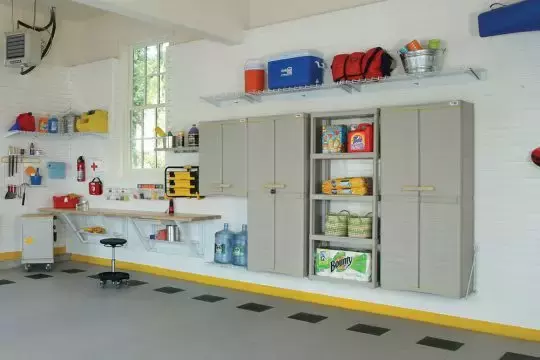 Garage Cabinets & Shelves
Choose Lockable or Open Storage
The garage cabinets and garage shelving components available from GarageTek are unparalleled in the industry from both a diversity and flexibility perspective. Your garage expert will help you select an assortment of products that enable you to:
Balance the need between locked storage and accessibility
Optimize the storage potential with various shelving styles and lengths
Match your storage needs with the weight-rated capacity of each product
After the panel, you will select the lifestyle accessories that meet your family's specific needs. You will:
Rely on unmatched product strength with a full-length bracket and exclusive load-tested certification
Combine all your gear conveniently on sport-specific storage centers
Store countless small and individual items in the varied baskets, bins and brackets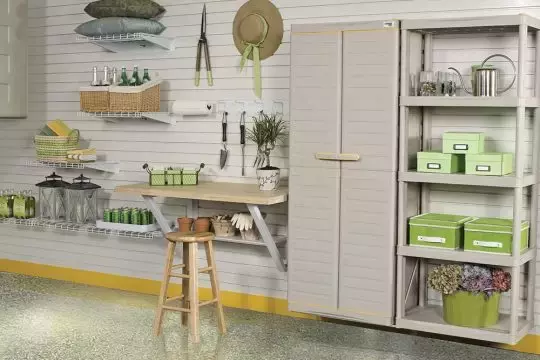 Garage Workbenches
Create an Ideal Place to Work
Every garage needs some type of work surface. Whether you want to plant flowers or clean your golf clubs, GarageTek offers the most versatile options of floor-based and wall-mount workbenches. Our unique wall-mount workbench is only possible due to the superior strength of GarageTek's TekPanel Wall system. Discuss how to create a comfortable workspace with our experienced garage organizer where you can discuss various workstation options:
Enjoy the long-lasting durability and beauty of solid butcher-block tops
Choose a folding table to save space when not in use
Complete your workspace with unique tool storage options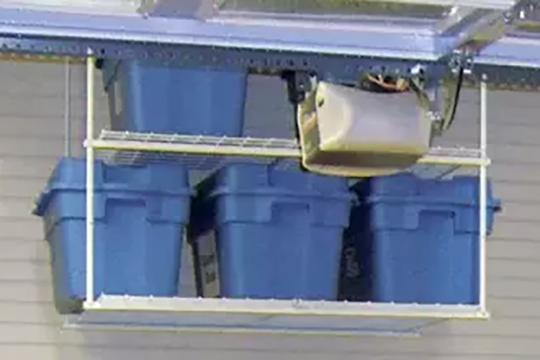 Overhead Garage Storage
The Power of Overhead Storage
There is additional storage space in your garage right above your head on the ceiling. Store those rarely used or seasonal items up, up, up and away with the revolutionary GarageTek Ceiling Storage Racks. Learn from your GarageTek garage organizer how you can take advantage of all the ceiling possibilities with:
Strong GarageTek Ceiling Racks that are forged with heavy-gauge steel made to withstand heavy loads and designed to last
Reliable racks that are tested to support from 300-650 lbs
Safe & Secure with brackets that mount across two ceiling joists maximizing contact with your garage ceiling and adding increased stability
Adjustable height from 22" to 40" to meet your garage height and storage needs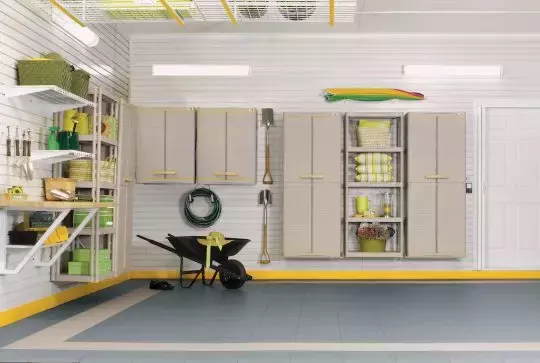 Garage Flooring
Safe and Beautiful Slip Resistant Flooring
GarageTek has created a versatile and superior tile system for garage flooring. The specially engineered plastic tile uses a six-point interlocking system for increased strength and durability. These garage flooring tiles are slip-resistant and stain resistant, making your garage floor safe and easy to clean. It floats above the garage floor for airflow to prevent mildew and trapping of water.
Multiple colors allow you to create patterns with the 1' tiles and coordinating trim. Be sure to finish the room with ProTek Floor Tiles.
Want Epozy Coating Instead? 
GarageTek MN also offers epoxy coating in a multitude of colors to get the perfect style and hard-lasting quality you want for your garage floor.
Garage Hooks, Racks and Clips
Keep the Tools & Sports Equipment Handy
According to the experts, many garages have little adequate parking area. The entire space is occupied by clutter, leaving no practical area to park a vehicle or utilize alternatively. Tools are a necessity in any garage, so keep them handy and organized in a tool holder. Install hooks for sports equipment or a paper towel holder close to your workbench. Don't forget to add a hat and coat rack to hang your garage clothing.